ABOUT US
ABOUT US
Family-owned group
SPHERE is a French family business which has been developing retailer own brands for the household packaging sector since its creation in 1976. It has over the years developed long-term partnerships with the major European retailers. With its expertise and perfect knowledge of the technical regulatory and health constraints, SPHERE has been working for years with local authorities and professionals in the distribution of hygiene and cleaning products and more recently with the retail sector. SPHERE group's main strategy is axed on mitigating the environmental impacts of the products it markets.
As a result, SPHERE gives priority to:
the drastic reduction in the volume of virgin fossil plastics used in its products by replacing them with recycled materials from the circular economy;
the development of new bio-compostable materials.
the use of biosourced raw materials.
SPHERE distributes ranges of products that are either recycled or biosourced, for transporting, protecting, cooking and sorting.
Bags: bin bags, carrier bags, freezer bags, fruit and vegetable bags, etc.
Food packaging: aluminium foils, cling films, baking papers, bread bags, trays, paper bags for the retail sector, etc.
Disposable tableware, etc.
+

€140

million invested in tangible and intangible fixed assets over the last 10 years
Innovating for the Environment
Since 2008, SPHERE group has devoted €30 million to Research and Development (R&D).
This mainly concerned:
basic research on bio-compostable products at Biotec;
applied research at the Group's production subsidiaries, aimed at improving processes, material mixes and the performance and properties of products.
The investments made by the Group enable it to anticipate the evolution of the sector and to be one of the world's leading players in responsible packaging.
The advances made by this research are applied to the national brands of SPHERE group before being deployed to the own brands of major retailers.
Our figures
Breakdown of turnover by product category:
Manufactured products: 21%
Trade in packaging and other sectors: 23%
More than 28% growth in turnover between 2017 and 2018
Our history
A French origin and a decidedly European and Asian expansion
SPHERE's integrated industrial strategy is focused on being reactive to needs expressed by customers and on speeding up the increase of high quality innovations and sales.
SPHERE CONSUMER PRODUCTS ASIA
Singapore
60 Paya Lebar Road | #05-14 Paya Lebar Square | Singapore 409051
Shanghai
18A Strength Plaza | No. 3 Lane 600 Tianshan Road | Shanghai 200051 P.R.China
Our commitments to a circular economy
SPHERE has been aware of the need to take environmental issues into account for over 40 years, and it continues to reinforce its commitment to the circular economy by implementing an eco-design policy and adopting an industrial strategy focused on the use of raw materials that are more environmentally friendly:
100% of plastics are recycled
This approach is in line with the objectives defined recently at European Union level (Package Circulary Economy) which stipulate that the European market must, among other things, achieve a 65% average recycling rate for its packaging waste by 2025 (including 50% for plastic packaging), increasing to 70% by 2030. In addition, the European Union expects biowaste to be collected separately (for industrial composting) or home composted by 2024.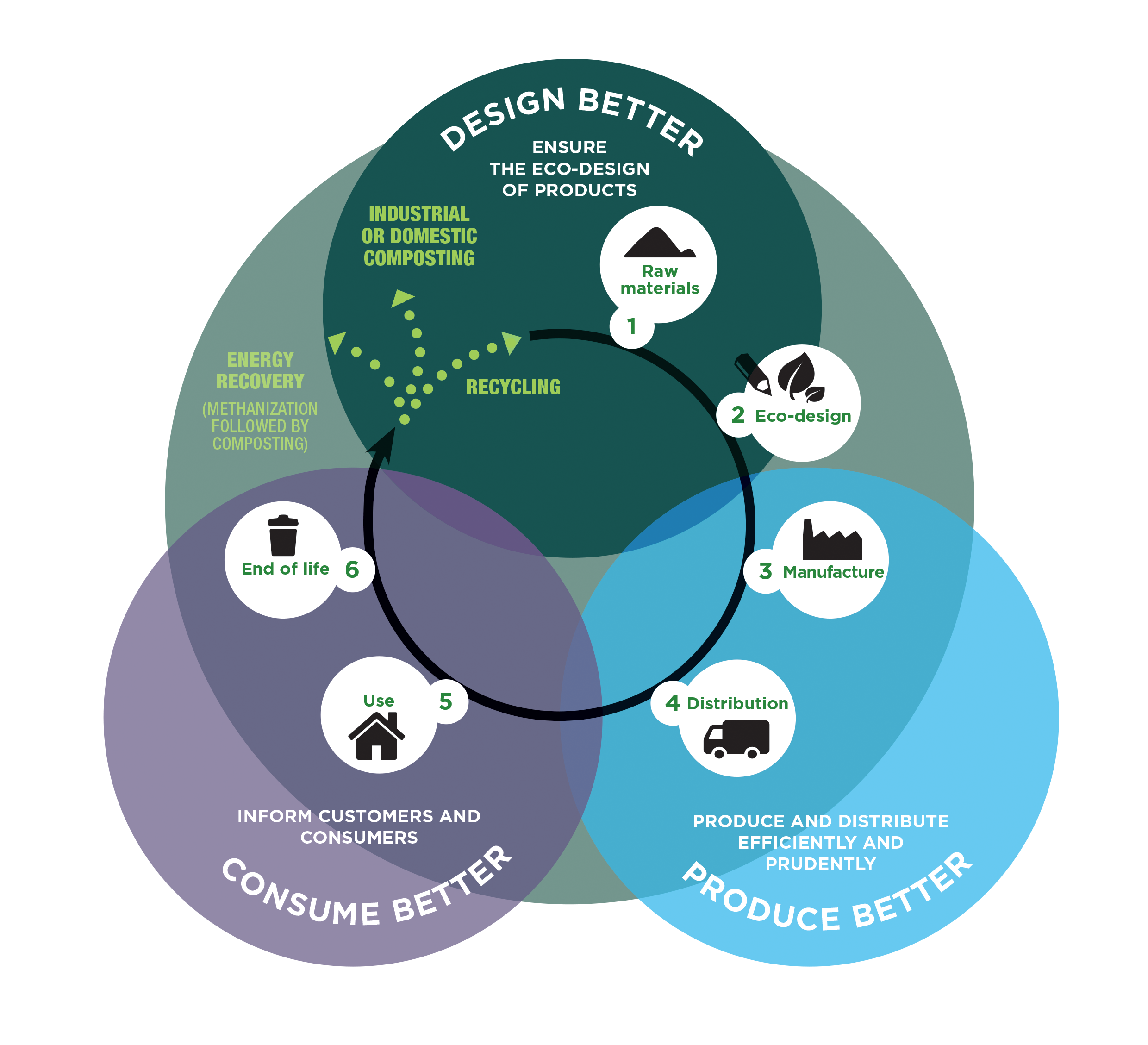 SPHERE contributes to recycling
Investments in the recycling of used plastics from its own production and those purchased externally increase the proportion of recycled products in SPHERE production and so reduce the consumption of virgin and fossil materials. SPHERE group helps its customers with the selective collection of household waste by making bags available for collection and by recovering them to be processed and recycled for reuse in its production.
For over five years, the tonnage of products from virgin fossil materials has been lower than that made from recycled materials.
SPHERE contributes to the development of the biowaste sector
The SPHERE group supplies municipalities with bio-compostable bags that can be adapted to a vented kitchen caddy to collect bio-waste and valorise it.
The recycling of biowaste, which accounts for one third of household waste, is used to produce natural fertilisers and generate clean and renewable energy.
Our Values and Commitments
Our ethical code
The values of SPHERE group are summarised in a charter that guides and motivates all its employees.
Our anti-corruption code of conduct
The SPHERE group code of conduct on anti-corruption reflects the company management's unwavering commitment to devote the necessary resources to fight corruption, which is a priority and applies to all Group employees.
CSR report 2019 – Statement of non-financial performance
CSR report 2019 – The SPHERE group declaration of non-financial performance highlights its commitment to corporate social responsibility, responsible practices and environmental protection.
Gender equality index in the workplace
The SPHERE group index of gender equality in the workplace is used to show the actions taken in the area of equal pay and gender equality.
Our Foundation
Established in 2004, the SPHERE Corporate Foundation has decided to work in two areas: the arts and social initiatives.
Becoming a patron is an opportunity for a company to express its identity and values and to illustrate its social and cultural responsibility.
Our Foundation
Established in 2004, the SPHERE Corporate Foundation has decided to work in two areas: the arts and social initiatives.
Becoming a patron is an opportunity for a company to express its identity and values and to illustrate its social and cultural responsibility.