 ORGANIC WASTE ORGANIC WASTE
WHAT IS ORGANIC WASTE?
The term 'organic waste' refers to food waste and green waste: kitchen waste, peelings, leftovers and garden waste. Organic waste, which accounts for 30%* of what we throw away, is made up of 90% water and can be recovered by:
Composting
Anaerobic digestion
Organic waste recovery eliminates the need for incineration or landfill, and therefore reduces the production of greenhouse gases, particularly CO2. Having been processed into recyclable materials (compost or digestate), the waste can be put back into the ground to nourish and fertilise the soil.
*Source ADEME, MODECOM™ 2017, Déchets chiffres-clés – L'essentiel 2019
WHY IS IT IMPORTANT TO RECOVER ORGANIC WASTE?
More than 20 million tonnes of organic waste are produced in France every year by households and businesses (restaurants, shops, food producers and processors). It accounts for 30% of the waste in our bins, yet only 40% is recovered through composting or anaerobic digestion to produce fertilisers and/or energy; 60% is landfilled or incinerated. This is environmentally absurd, considering that organic waste is made up of 90% water and that soils are becoming poorer. Landfilling organic waste also generates pollution and methane, a greenhouse gas 25 times more potent than CO2.
The challenge is therefore to collect and recover organic waste through industrial or domestic composting. The resulting compost can be used to feed and fertilise soil, meeting its agronomic needs. The introduction of organic waste collection generally improves recyclable waste collection performance.
EUROPEAN DEMAND FOR A SORTING SOLUTION
Applicable regulations
The Energy Transition for Green Growth Act (LTECV) provides for the widespread sorting of organic waste at source by 2025. However, the Anti-Waste Law for a Circular Economy (AGEC), transposing European Directive no. 2018/851 of 30 May 2018, has brought this deadline forward to 31 December 2023 and stipulates that all citizens must have a workable solution for sorting their organic waste at source.
With less than two years to go, separate organic waste collection is available to just 6%* of the French population. It is urgent that we accelerate the scale-up of sorting at source, and offer workable solutions to people across France.
*Source ADEME, Tri à la source et collecte séparée des biodéchets
Citizens are speaking out about organic waste collection
According to an OpinionWay survey conducted in 2020 for the SPHERE group, a large majority of French people (69%) want their municipality to set up a organic waste collection system. Expectations are even higher in large urban areas (75%).
COMPOSTING ORGANIC WASTE IS EASY TO DO, IN BOTH URBAN AND RURAL AREAS
There are various types of composting in urban areas:
Domestic composting refers to composting either in the home, in the surrounding environment (vermicomposting) or in the garden (in plastic or wooden containers of 200 to 600 litres).
Shared composting refers to composting by several households, close to their home (outside their building or in their neighbourhood). In this case, the residents are partially or fully responsible for installing and managing their own facilities.
Shared composting outside residential buildings. Many local authorities have installed compost bins in communal gardens, where residents can dispose of their organic waste. The bins are managed collectively under the responsibility of volunteer residents. Many local authorities provide residents with equipment (compostable bags and bio-buckets), as well as support from a master composter.
Shared composting in neighbourhoods. This means setting up voluntary drop-off points in a public garden, a green space in the community, or busy streets close to shops and schools. Citizens can thus dispose of their organic waste in a compostable bag at their convenience. Such projects are generally initiated by an association, a community council or a master composter acting in support of the local authority.
To optimise organic waste sorting and collection, ADEME recommends using a perforated bio-bucket with a lid, and a suitably sized degradable bag compliant with standard NF T51-800 on domestic composting and with standard NF EN 13 432 on industrial composting.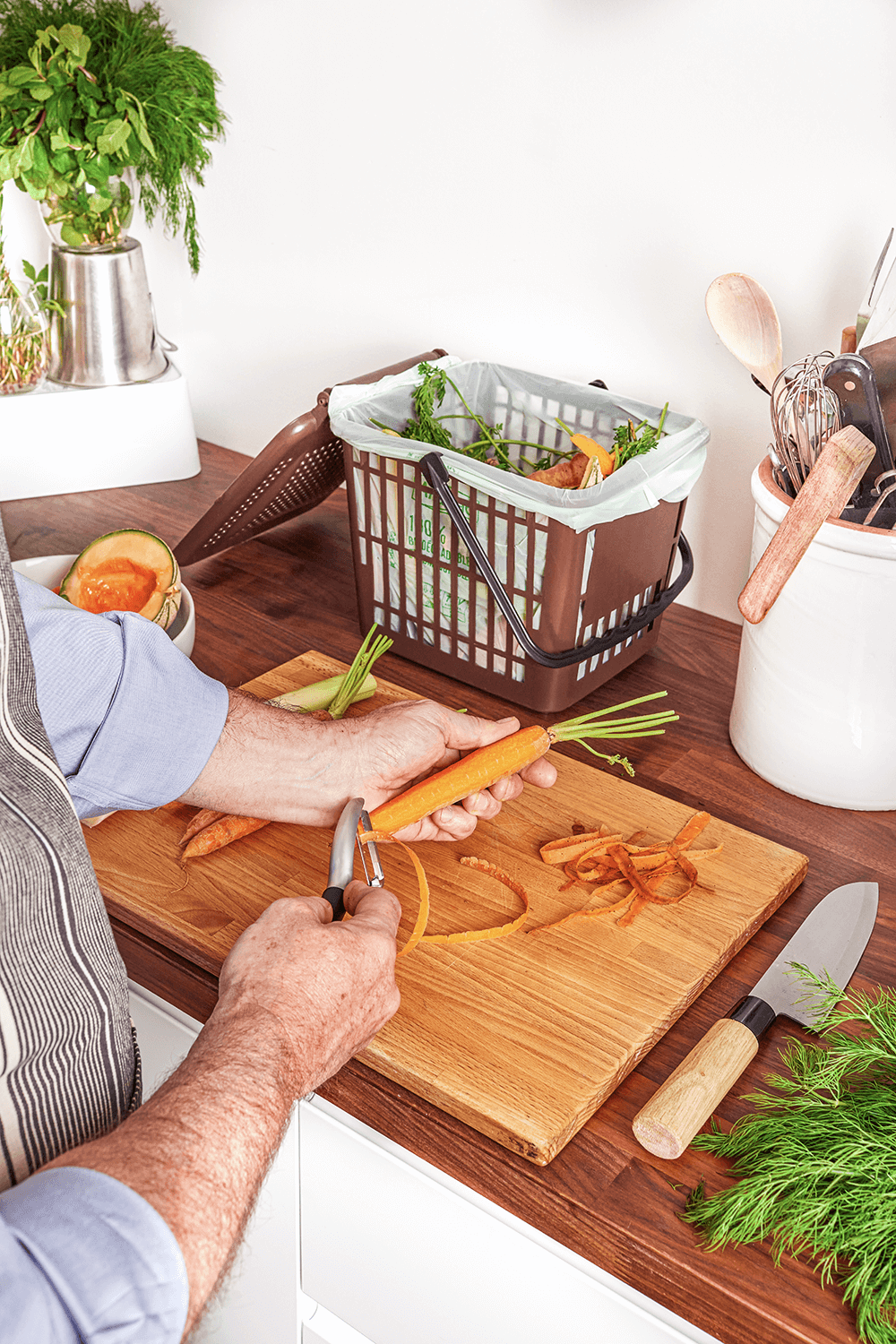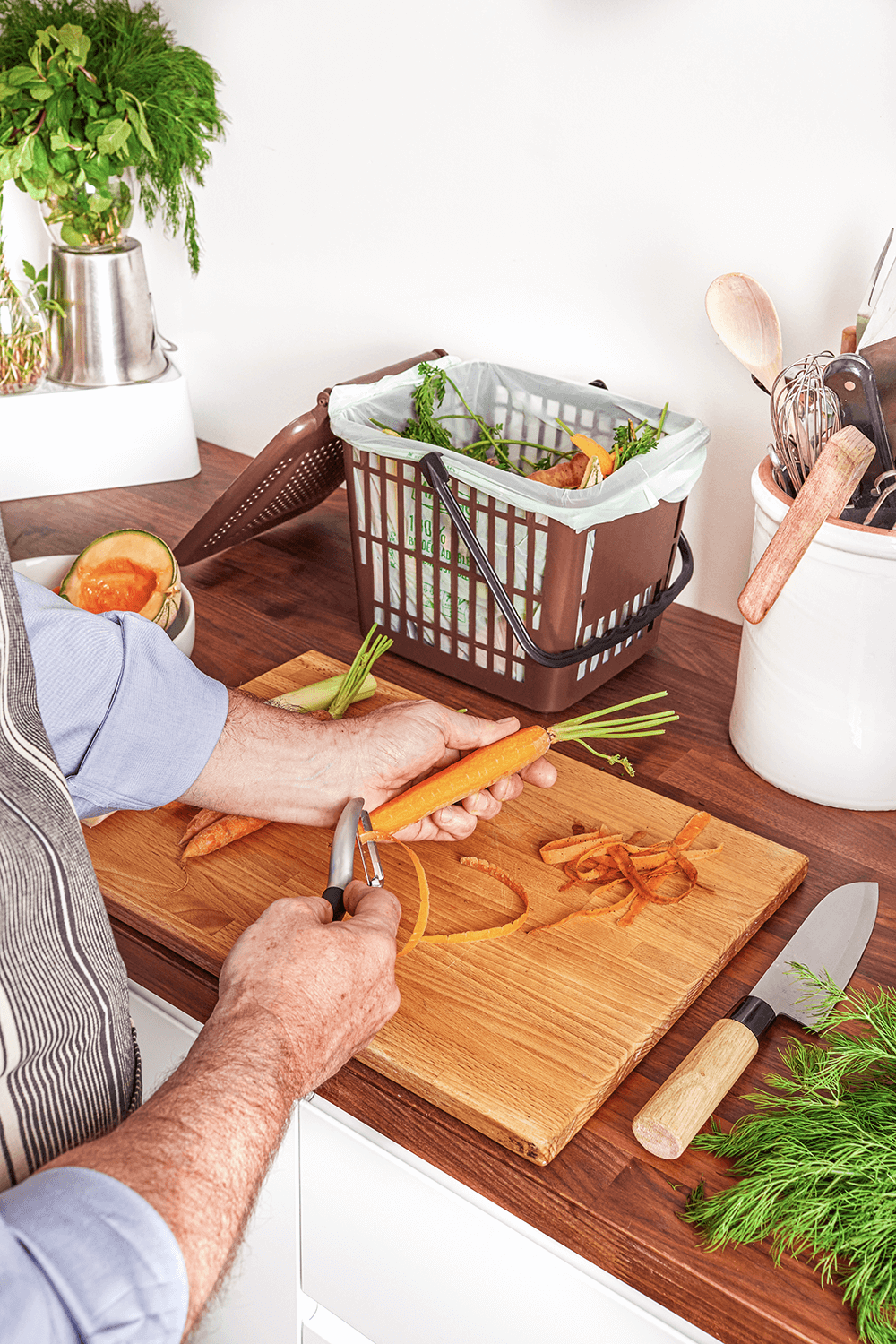 THE SPHERE GROUP'S COMMITMENT TO ORGANIC WASTE RECOVERY
Because the SPHERE group understands that organic waste management is a major environmental challenge, it has decided to embark on a sustainable development initiative in partnership with Les Alchimistes. This one-year experimental project in the Île-de-France region involves sorting and collecting urban food waste at voluntary drop-off points.
The SPHERE group has developed the ALFAPAC range of compostable biosourced bags, designed specifically for organic waste collection. These bags are certified OK Compost HOME guaranteeing that they are suitable for domestic composting, and bear the Origine France Garantie Label.
The SPHERE group has also been helping local authorities and associations to set up organic waste collection services for several years. Thus, it provides municipalities with biosourced compostable bags that can be used in perforated bio-buckets to collect and recover organic waste.
ALFAPAC: the right waste in the right bag
ALFAPAC is a SPHERE group brand that has been supplying the French market with eco-responsible kitchen products for over 35 years.
It has a range of compostable biosourced bags designed for sorting food waste. ALFAPAC's  compostable biosourced bags are certified 'OK Compost Home' and bear the Origine France Garantie label.
In line with this commitment, SPHERE recently entered into a partnership with Les Alchimistes to develop short-circuit organic waste sorting and collection for private individuals.
Our partnership with Les Alchimistes
In May 2021, SPHERE and Les Alchimistes, a start-up specialising in the collection and recovery of urban organic waste, entered into an ambitious partnership agreement to develop short-circuit organic waste sorting and collection for private individuals. 
The agreement relates to a one-year experimental project to support the residents of three districts in the Île-de-France region (the 13th and 14th arrondissements of Paris and L'Île-Saint-Denis) to compost their food waste by 2023. 
The SPHERE group, through its ALFAPAC brand, has agreed to provide all those participating in the project with rolls of compostable bags and perforated bio-buckets, free of charge. Les Alchimistes will take care of collecting the organic waste via a local network of voluntary drop-off points, composting it and maintaining bins. The compost produced will be redistributed twice a year to participants. Information will also be provided to the participants on how to sort their waste.
This experiment will create a local circular economy where citizens play an active role in the ecological transition.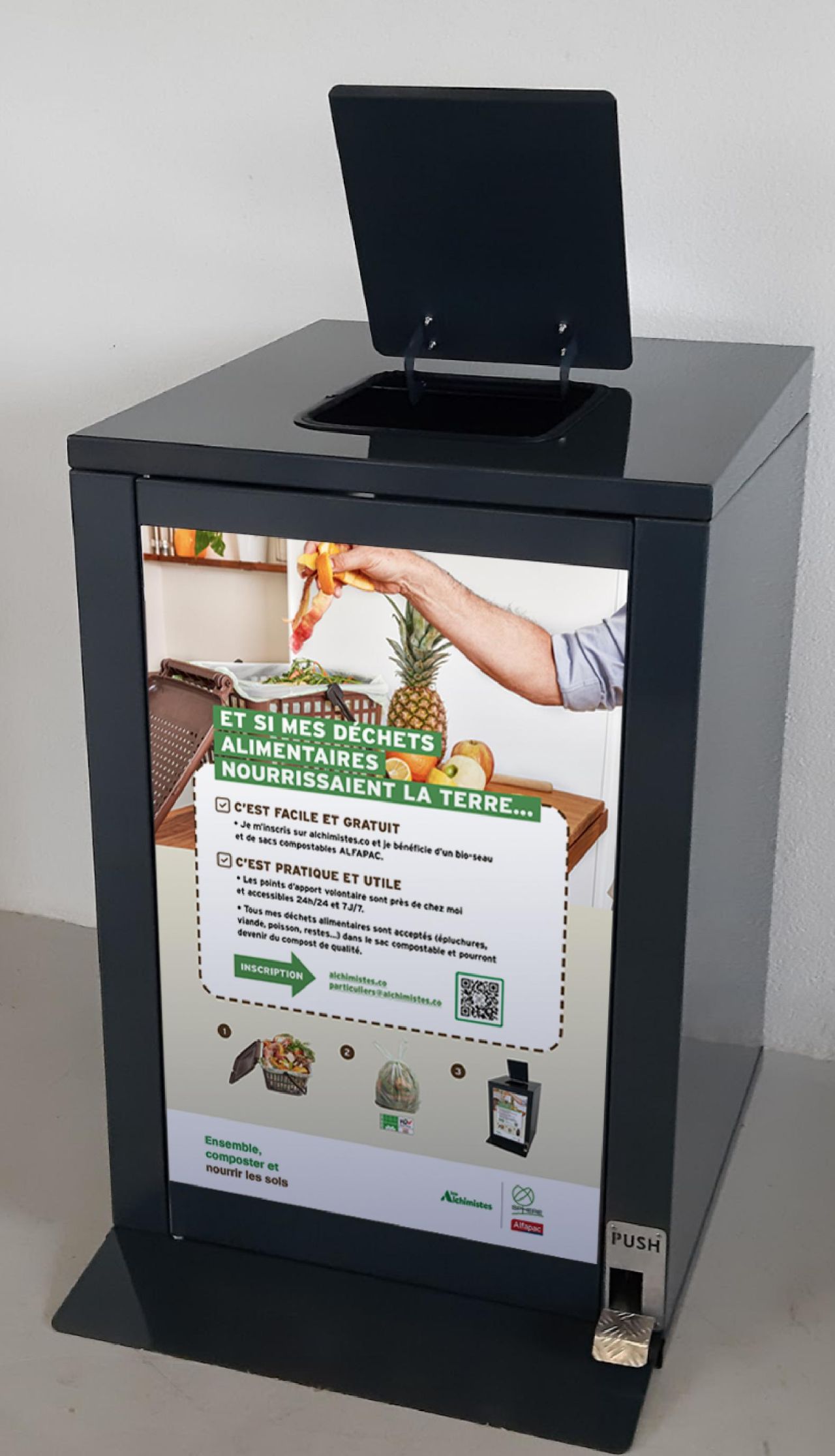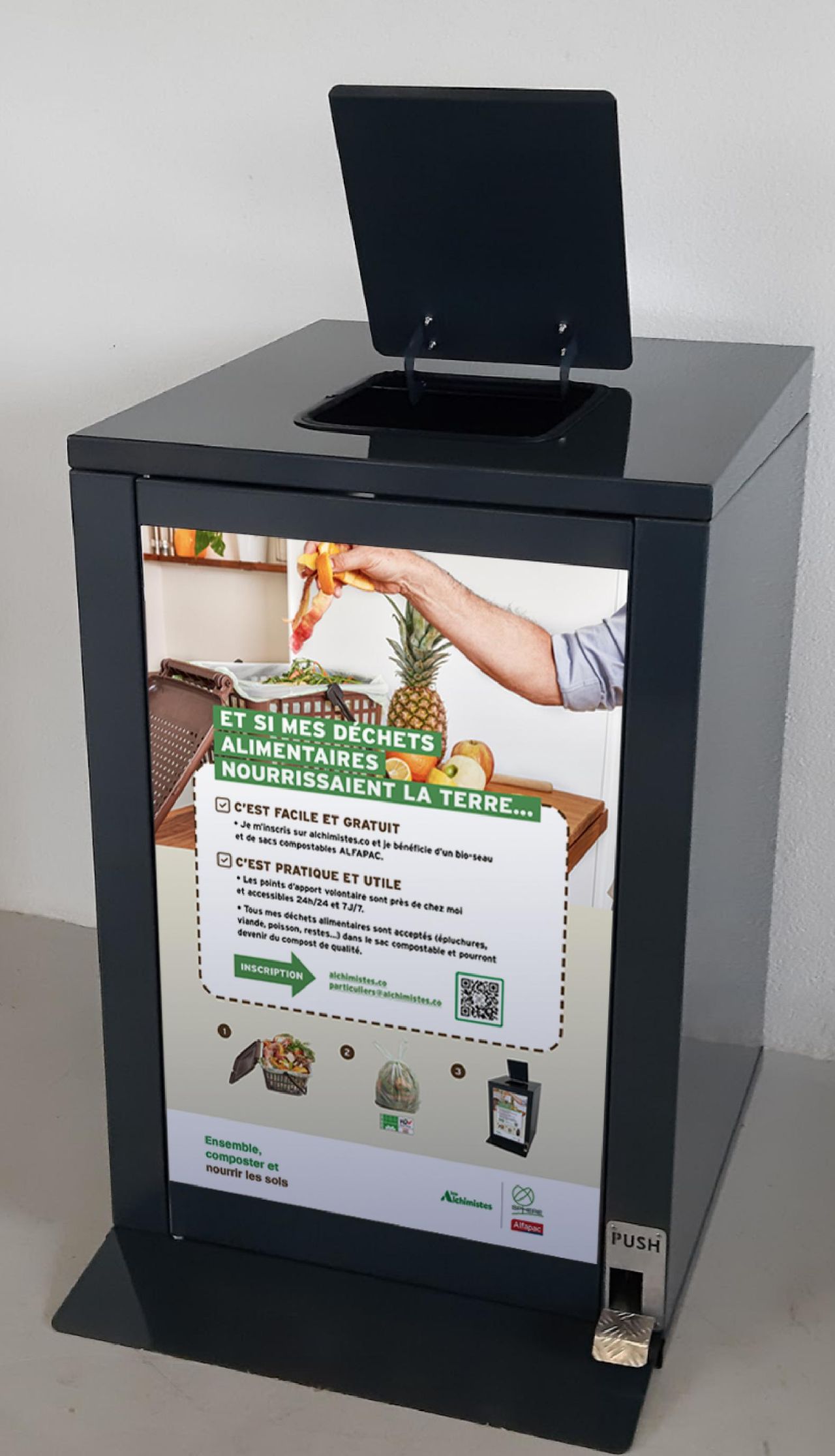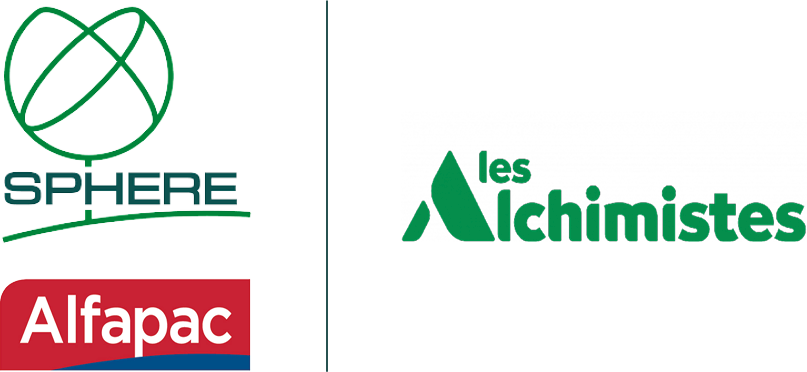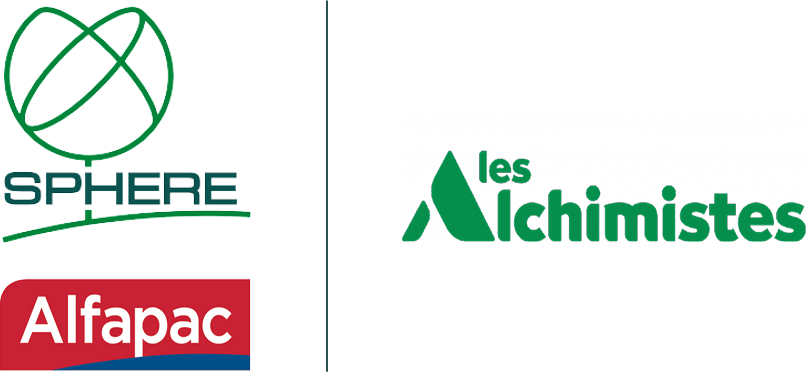 "It will never occur to me to put my food waste in the normal bin again. It should be like this everywhere. It's so easy to do!"
"Less waste, less smell, a small eco-friendly gesture and a natural fertiliser for house plants. Thanks for this excellent service." 
"Revolutionary: 1 ordinary bin per week for an entire family. What a great achievement!"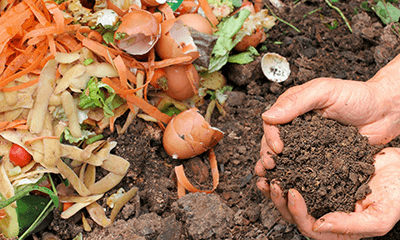 "I'd been looking for a composting system for years. Thank you for helping me to recover my waste and put it back into the earth. I hope we'll get more bins, closer to home."
"Waste reduction! The disposal system is flexible, and all waste is accepted. Keep it up!"